Picking the right colours and the right combinations of colours can optically increase or decrease a space. It is better to consider the optical influence of a colour in the given area before implementing it. Wall and floor colours serve as the foundation of beautiful interiors. Light coloured walls make the room seem larger in size. A white ceiling with bright shades on the wall and patterns of a smaller size will make the room look bigger. If the apartment is small, avoid wooden panelling and dark wall papers.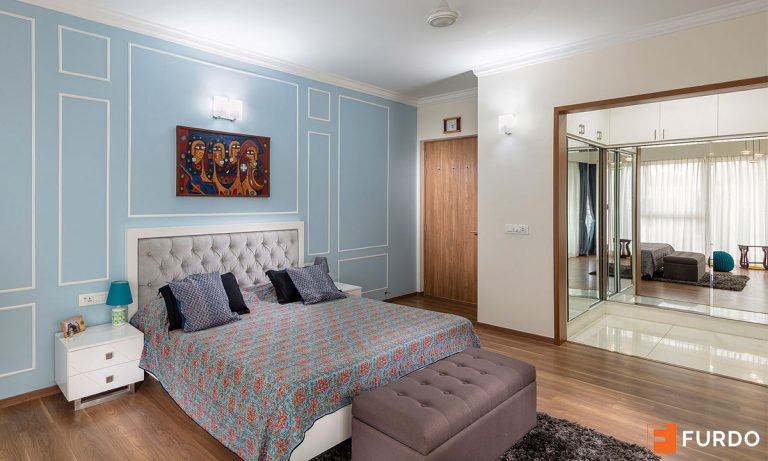 While panelling wood make sure they are placed parallel to the longest wall to create the look of an elongated room. Laying the planks diagonally can make a room look visually bigger. Wood with neutral tones and simple patterns in light colours make the room spacious.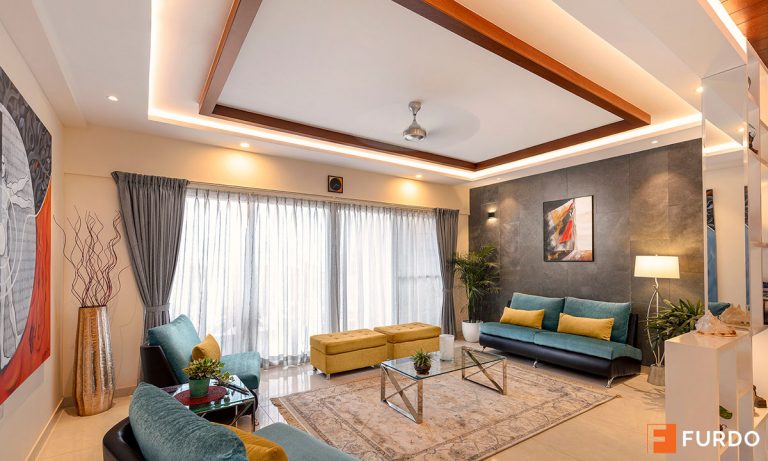 Maximize the entrance of natural light into the home. That is the best way to create an illusion of space. Use light coloured curtains and keep the window treatments to a minimum and keep them apart to allow maximum sunlight into the room.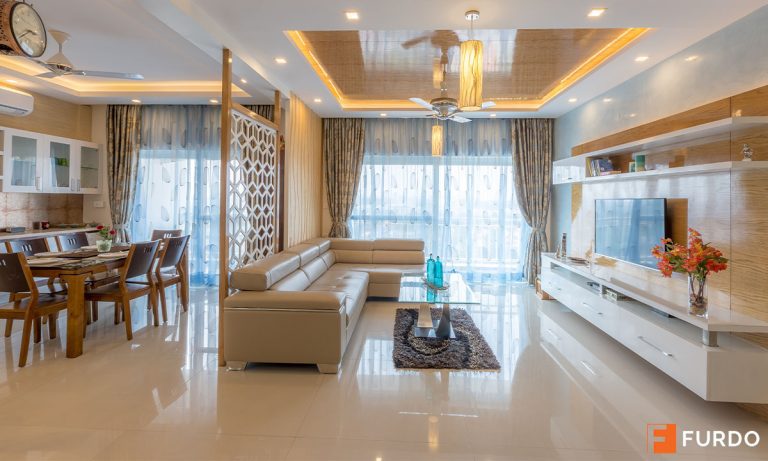 Shelves and cabinets at ceiling high will free up the floor and use space that would normally never be used. High-mounted shelves and storage compartments can also make the room appear taller by drawing eyes in the upward direction.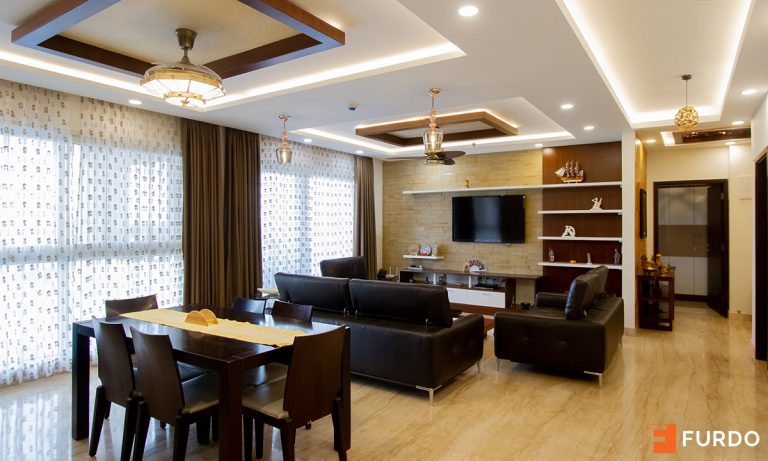 Mirrors amplify the natural light in a room which makes the room interiors brighter and creates an illusion of space. Large mirrors extending from floor to ceiling, mirrored cabinets and door fronts as well as mirrors placed between wall cabinets and work tops can contribute in creating a spacious look.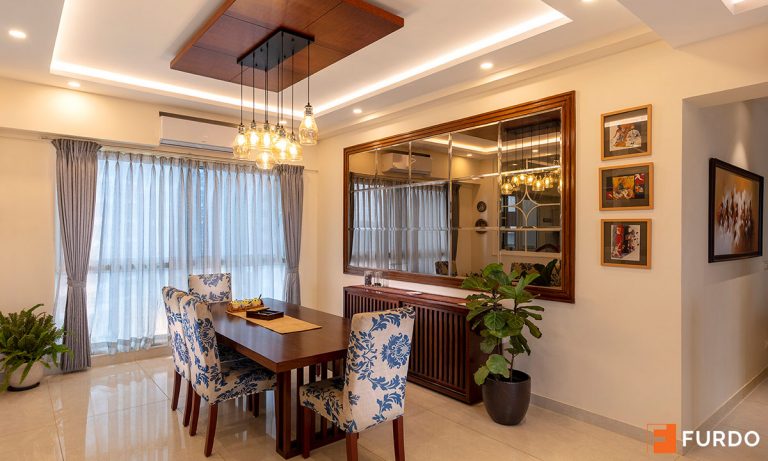 Normally Furniture is placed adjacent to walls and against corners but, when furniture is placed a little away from the corners and walls, it gives a sense spaciousness. Choose a good combination of large and small pieces of furniture that will not block the room and make it looked cramped nor does it look too empty.
Transparent furniture that includes glass and acrylic furniture is a great option for placing in a small space. Transparent furniture has the property of blending seamlessly with other pieces of interior and thus creating a feel and look of spaciousness. We at Furdo, Bangalore's best interior designers, specialize in furniture that makes your home not only save space, but looks grand when it comes to aesthetics.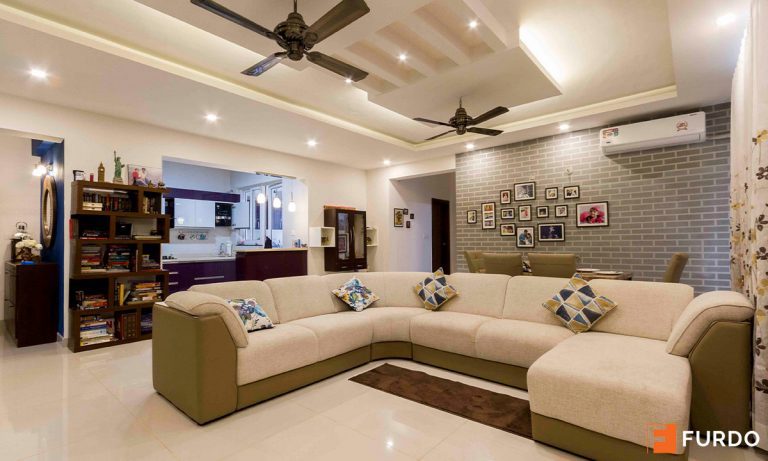 If your small space architecture allows you put an inviting sofa in your living room against the wall, you can easily create a focal point by displaying pictures or artwork over that couch. This technique will help you to draw your eye towards the art and ignore the small size of the room.
Generally, the bottom of the frame or art work should hang around 8 to 10 inches above the backseat of the couch. In case of hanging an artwork too high, it will not look connected with the couch and thus not create the look we want.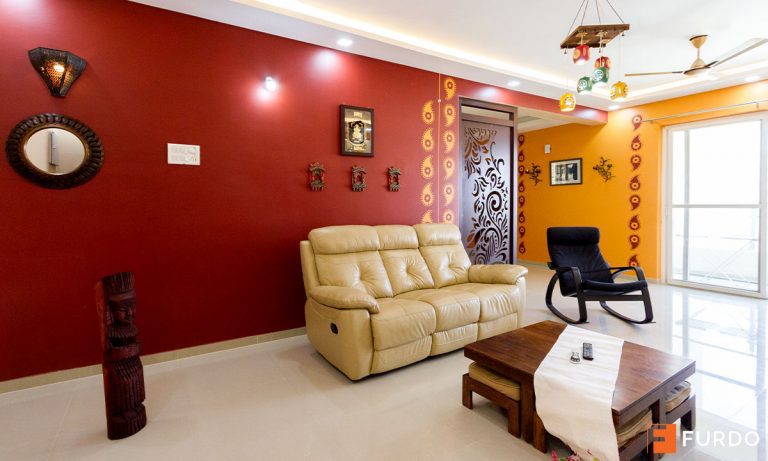 Intelligent Bathroom Storage

When there is no have extra space outside the washroom to store toiletries and other everyday washroom items, you need to create intelligent storage spaces inside the washroom. Occupying vertical space is the answer.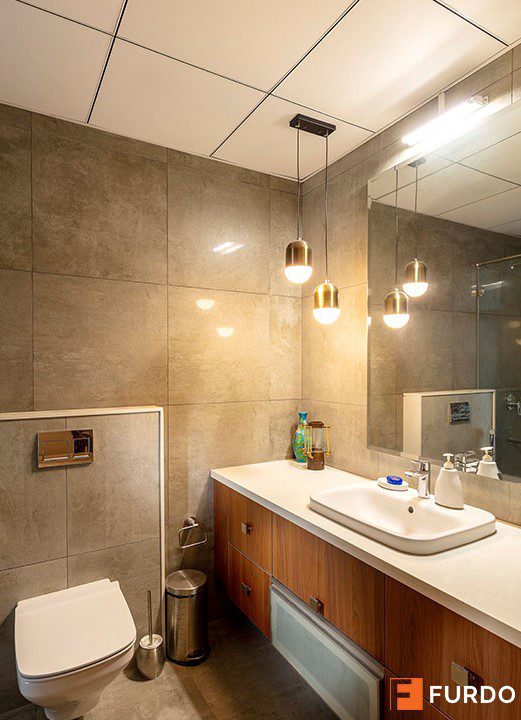 Foldable chairs, cabinets and workstations are a convenient and space saving practical design for an office. The closet door can be taken off to create some extra office space.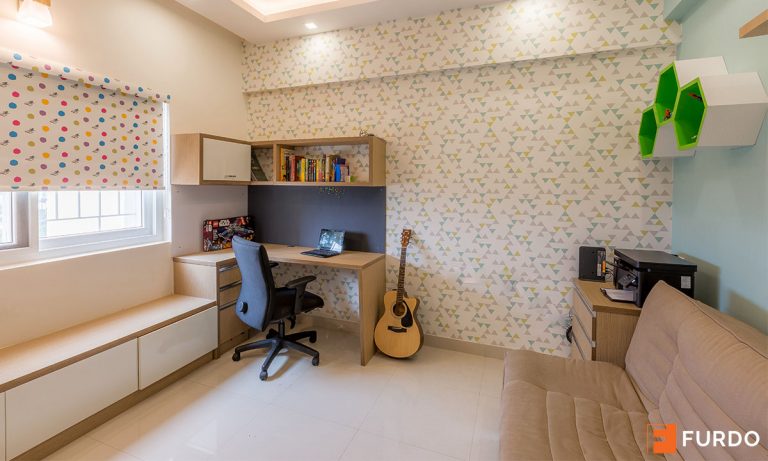 Modern beds come with built-in storage and this can be used to store bedspreads, comforters and pillows. This storage does not collect dust unless the platform has been left open.