Homes Designed For Tomorrow
Designing your newly-bought home has never been this simple before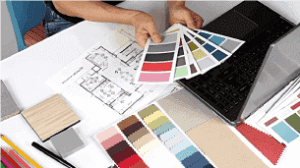 01 
Book a design consultation with some of Bangalore's best designers. Get your home designed for the dreams of tomorrow

02 
See your home in every angle and "try before you buy" furniture, using our Virtual Reality walkthrough

03 
Sit back & Relax. In just 60 days, an army of experts will make the Virtual Reality a glorious reality
When you choose an home interior design theme from here, not only are you are telling us what tastes, colors and preferences move you. You are also giving yourself a fantastic head start on the journey of turning your house into a 'home'
Bijoy Bhukania |
DNR Atmosphere
Carefully curated pieces, stellar accents and gorgeous furnishings come together, to create an opulent home, that'll whisk you away to the lap of luxury.
The warm glow of the chandelier and earthy stone cladding serenade you with warmth as you enter the home. A cozy seating area with a Tree of Life copper metallic wall decor as a backdrop is right next to the entrance. The spacious living room is designed extensively with rich wood and neutral colors and has the large windows that open up to sweeping views of the city. The multi-functional Jhaali partition separates the living room from the dining room and also doubles up as a display unit. The dining area is replete with a 6 seater Dining Table, a spacious Crockery unit and is lit by a sparkling Chandelier. Adjacent to the dining area is a U shaped Modular Kitchen with a Breakfast Counter / Bar Unit. A pathway from the Dining Area leads to the bedrooms and is illuminated by an elegant Jhaali false ceiling and colorful niches with pelmet lights for display. The lavish Master Bedroom is designed with wood and gold undertones and is a haven of perfect tranquility. As you move to the sports themed kid's bedroom, you will come across a blue pinstripe wall paper, a compact study area and a sports theme panel that runs across the wardrobe. The study room is designed with a colorful geometrical pattered wallpaper and is complete with solid wood tables and cabinets.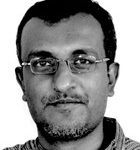 Prestige Ferns |
4 BHK APARTMENT
Well-lit and elegantly furnished with contemporary and traditional elements, this 4 BHK home is both radiant and opulent in equal measure.
As you step into the home, the living room envelops you with natural light and bright pops of color. Plush blue sofas paired with contrasting ottomans create a focal point and is a perfect space to kick back and relax. A large floor-to-ceiling Diamond patterned mirror is positioned opposite to the entrance of the house to comply with Vastu as per the family's preference. Adjacent to the Living Area is the Dining Room consisting of a 6-seater dining table, traditional art and a crockery unit. The curtains when pulled back reveal a balcony overlooking a beautiful lake. Next to it is a sleek U-Shaped Modular Kitchen featuring high gloss cabinets finished with patterned backsplash, quartz counter tops and wicker baskets. Past the Living and Dining Area are the Master Bedroom, Kids Bedroom and the Puja Room. The Master Bedroom is tastefully designed in neutral colours and has 2 wardrobes to accommodate the couple's storage needs. The lighting and upholstered furniture brings warmth while the patterned wall paper adds texture to the bedroom. The Kids Bedroom is designed for 2 kids and is crowned with a playful asymmetrical false ceiling that highlights both the study areas and the bed. The wardrobe features open and closed cabinets making it a perfect spot for both display and storage.

We use next-gen Design, Technology, Furniture & Implementation methods, to solve not just today's Home Interior design needs, but even the ones you don't foresee for tomorrow

Will transform your every need into functional & aesthetic design, and help you plan your space intelligently

Our state-of-the-art Virtual Reality technology lets you 'try before you buy'

Impeccable Implementation
Get a personal Project Manager, receive daily updates from site, and watch us turn your design into reality

One look at our partners & you will realise that they are all category experts

We ensure the best raw material, German machinery & exemplary factory finish

Our home automation partners will help you control everything in your home, using nothing but just an app

Same Price Guarantee whether you directly buy from us or from our partners

Breathe easy for the next 10 years. Although all our products will last way more