False Ceilings 101: Materials, Lights,

One of the subtle ways you can amp up your home is by installing false ceilings. A false ceiling can transform the look of a space and unify all interior elements together.
Although these ceiling treatments appear straightforward, there's so much that goes into setting them up. From materials to designs to lighting systems, there are several options you can pick from, making this entire process confusing and daunting.
To make things easier for you, we have put together a detailed false ceiling guide. We also added false ceiling design ideas for specific rooms to help you make the right decision while getting your interiors done.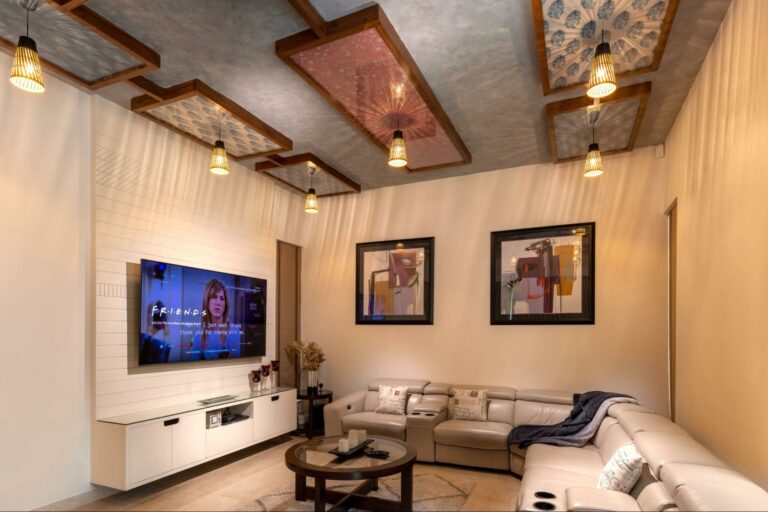 As the name suggests, a false ceiling is a second ceiling that mimics the original one. It is suspended a few inches below the original ceiling with the help of metal or wooden grids called brackets.
The height of a false ceiling can vary depending on the design and the original ceiling's height. However, a general rule of thumb is to have a minimum of 8.5 to 9 feet of headroom; we don't recommend anything below that height.
Popular False Ceiling Materials
A wide range of materials are used for false ceilings, such as wood, Plaster of Paris (POP), gypsum, glass, PVC, metal, fiber, fabric, etc. Depending on the design you want, the material you need might change. However, a handful of materials are commonly used in interiors.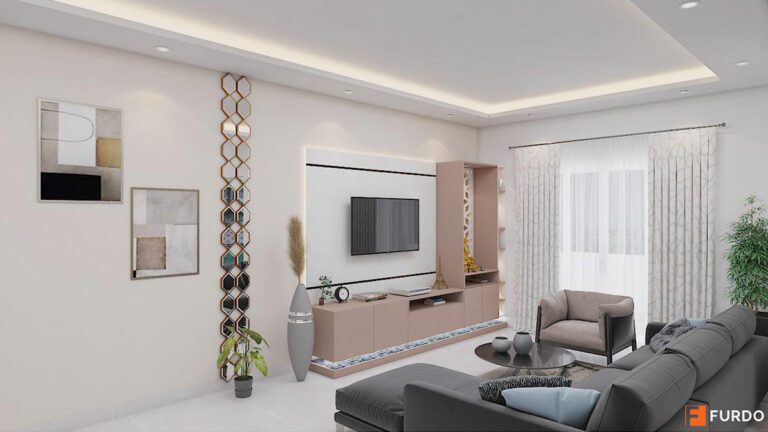 Gypsum is a form of calcium that's commonly used for false ceilings. It's usually available as boards, ceiling tiles, and sheets. These are further cut and layered to create different false ceiling designs.
Since these are lightweight, it's easy to install them. Gypsum ceilings also absorb heat, offer soundproofing and fireproofing, and give a smooth seamless finish.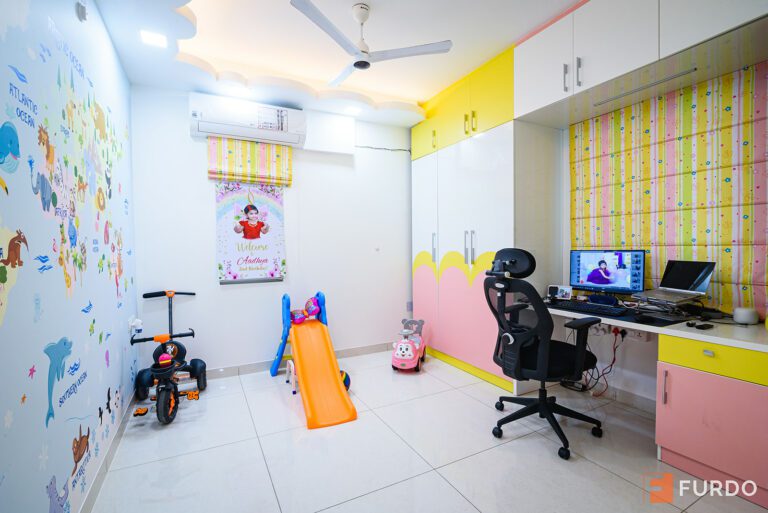 The second most used material for false ceilings is Plaster of Paris(POP). It is a powdered form of gypsum and because of this, it's extremely malleable. When mixed with water it can be molded into any shape and structure.
Compared to gypsum ceilings, POP false ceiling designs are cost-effective and long-lasting but are tedious to create. These are also excellent heat insulators.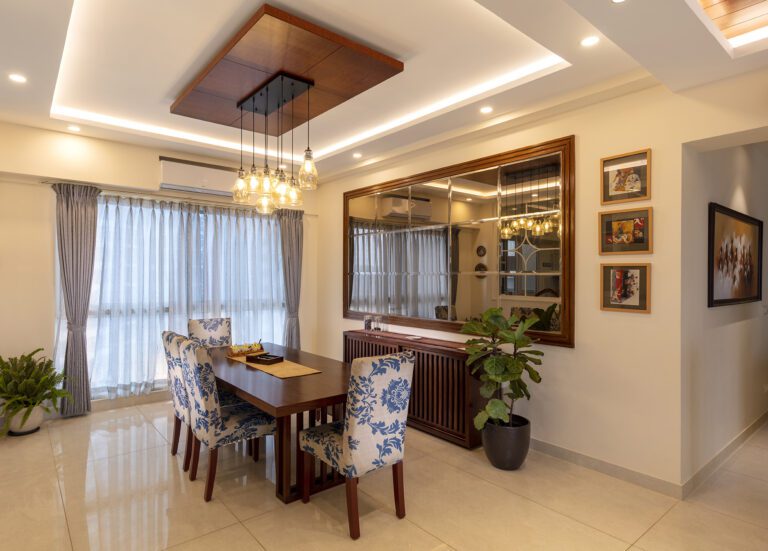 Wood falls in third place in popularity after gypsum and POP. Wooden ceilings are preferred more for aesthetics rather than durability. Wood adds the nostalgia of the traditional and wooden false ceilings are one way to combine the new with the old.
However, these are a bit on the expensive side and don't last long as gypsum and POP false ceilings. But you can't miss out on wooden false ceilings if you want stunning interiors.
5 Trending False Ceiling Designs
There are several ceiling designs you can opt from, but here are some of them that have gained traction in recent years: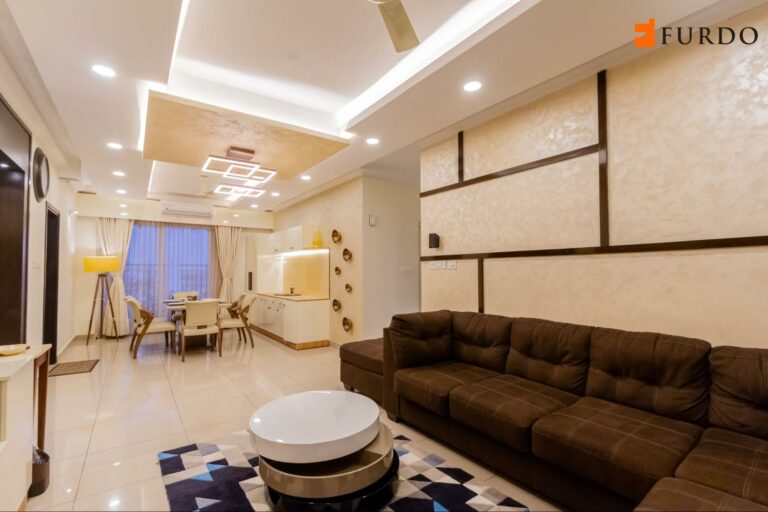 Whether you want to keep it simple with a single layer or experiment with multiple ones, layered ceilings are a great way to spruce up your space. Single-layer ceilings are a quick and easy way to add some drama. They are cost-effective and don't require a professional for installation.
Multi-layer ceilings should be your go-to if you want a sophisticated customized design that will add depth and dimension to your space. One example of a layered ceiling is an island ceiling. However, they can be a bit expensive and you might need help to install them.
Recessed Ceiling or Tray Ceiling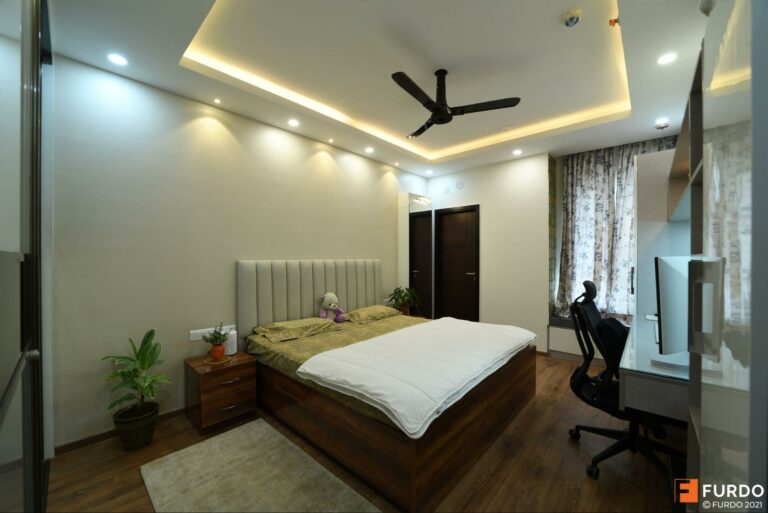 As the name suggests, this false ceiling design looks like an inverted tray with the center closer to the ceiling than the perimeter. This is one of the common designs that we see in residential interior design. We see these ceiling designs in living rooms and master bedrooms as they visually expand the space and add a sense of luxury to the space.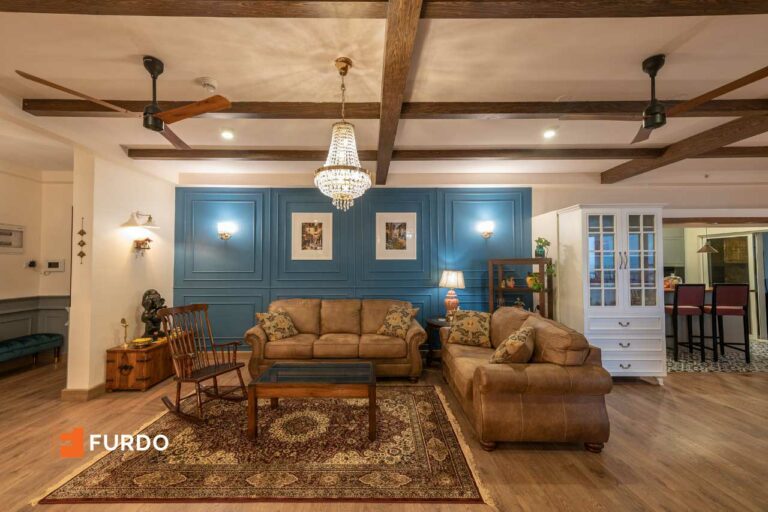 Exposed beams are prominent in rustic, industrial, and farmhouse themes. If you want to add a unique and cozy vibe to your home, beamed ceilings are a pretty great option. They define the space, make it feel larger, and take your guests' eyes directly to the ceiling.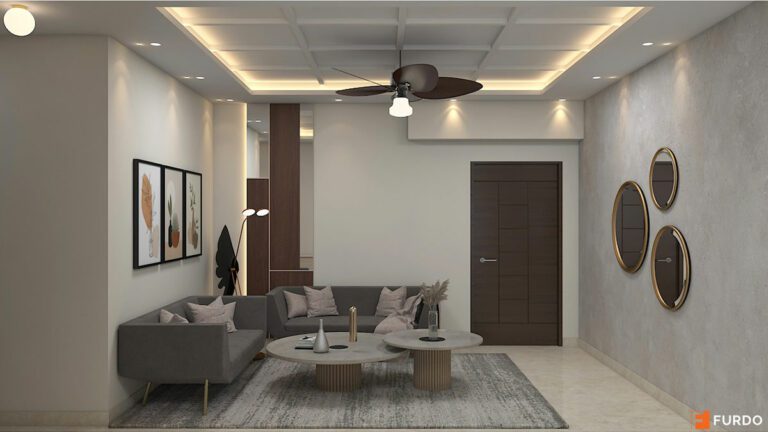 A coffered ceiling is an upgrade to a beamed ceiling. A coffered ceiling is formed when exposed beams are crisscrossed to create different geometric patterns and shapes like squares and rectangles. Similar to beamed ceilings, these also create an illusion of spaciousness and enhance the look of the space.
Plus-minus ceiling design is a combination of protruding structures that are highly customizable to match your room size, height, and design preferences. POP is used in these designs and professional help is a must if you plan to get this ceiling design for your home.
Types of False Ceiling Lights
Lighting is one of the key elements that make a false ceiling the statement of any room. Picking the right type of ceiling lights can instantly make your room from good to wow. Here are some of the commonly used ceiling lights: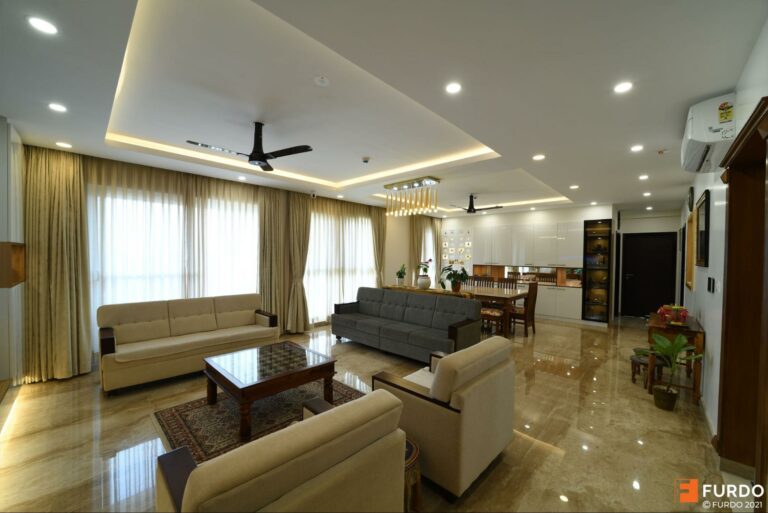 Cove lights or strip lights are a type of ambient lighting that adds a soft glow to your space. These are fitted in the cove of the ceiling and act as an indirect light source that's very subtle to the eye. If you are picking lights only for accent lighting then these are a perfect fit.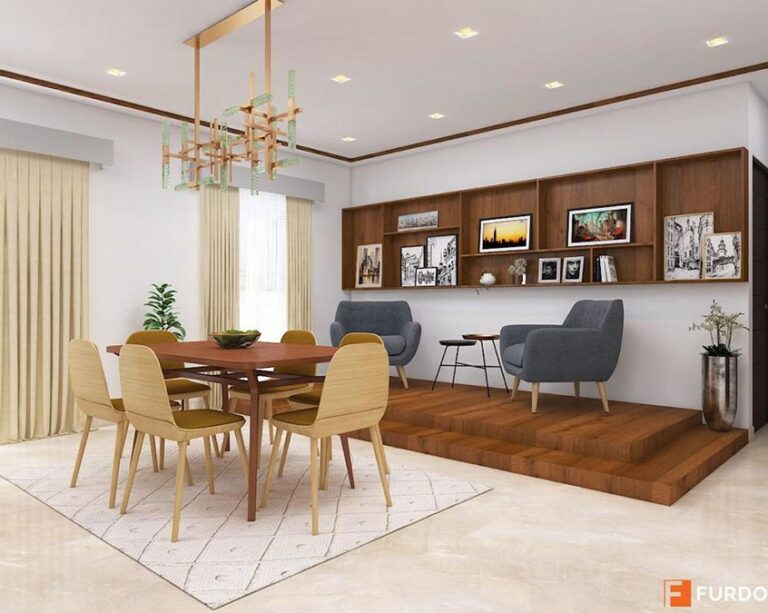 Recessed lights are individual bulbs embedded into the ceiling and shine light in a downward direction. These are an excellent pick for low-ceiling designs as they don't take up any more extra space. You also get an evenly lit room, but only when you go for enough lights.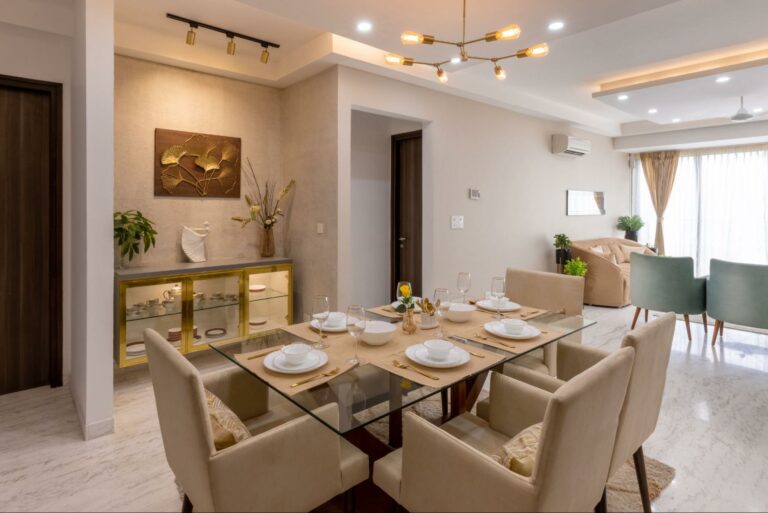 These are a series of individual lights fixed on a track device that conducts electricity. These lights can be adjusted in different directions, giving you the flexibility to adjust the mood of your room. Although these are versatile lighting options, they would be great for a hallway or a living room with high ceilings.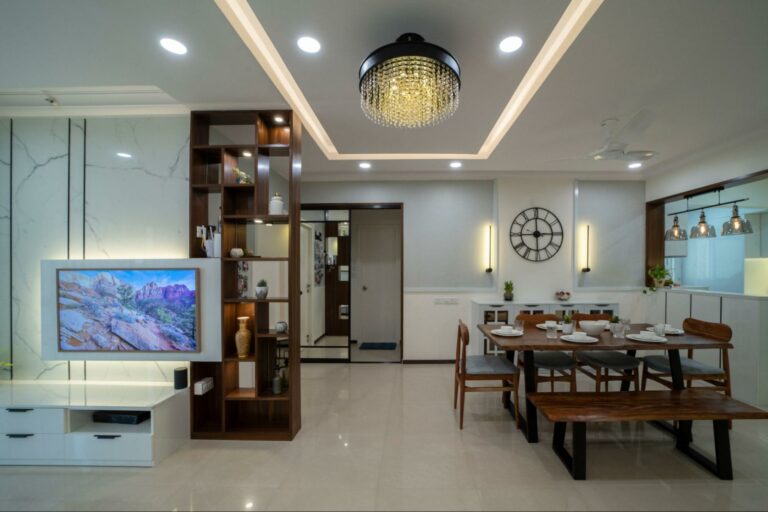 A chandelier is a decorative light fixture with multiple light bulbs hung from the ceiling for functional purposes and aesthetics. You can place chandeliers anywhere in your home, but these look stunning in the living room or bedroom. They go perfectly with island ceilings, tray ceilings, layered ceilings, etc.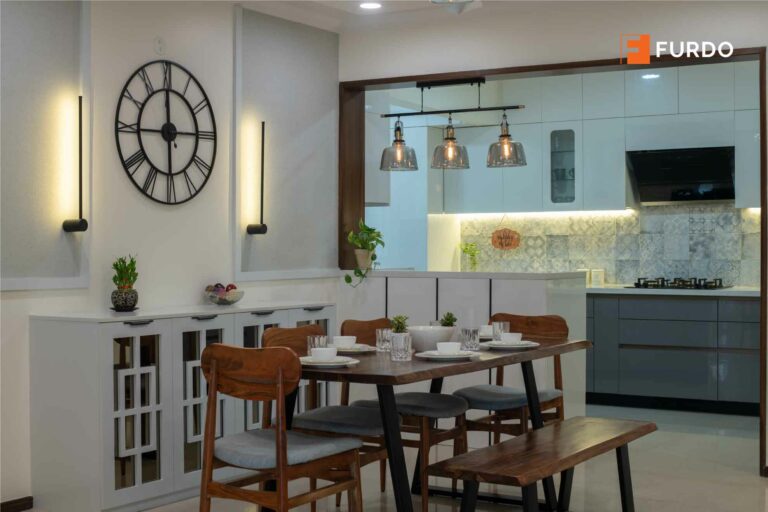 A pendant light resembles a mini-chandelier as it has a single bulb and dangles from the ceiling. Since these are smaller when compared to chandeliers, you might need more than one to light up your space. These look great for breakfast nooks, dining areas, and foyers.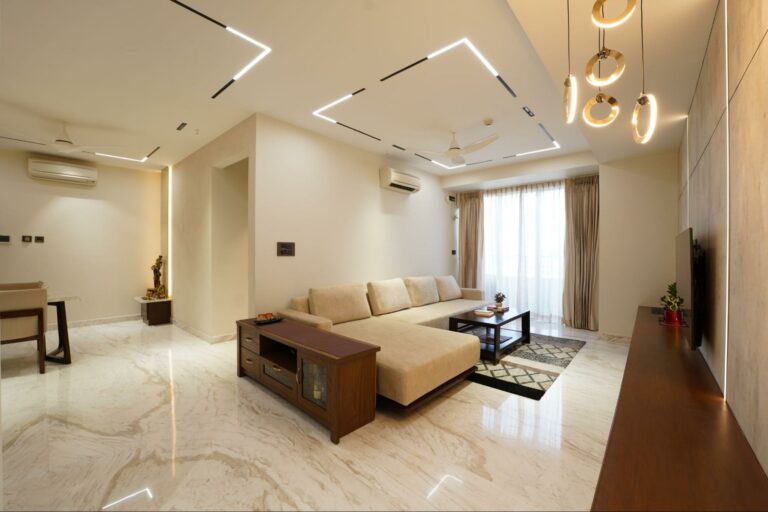 Backlit panels are translucent lighting fixtures set up in the ceiling to give off a very subtle glow. These act as an accent and ambient lighting, as you can get about 75 percent of the light from the source. Since they are highly versatile and look stunning in any space, you can fix these lights anywhere in your home.
Advantages & Disadvantages of False Ceilings
While false ceilings are a sight for sore eyes, they do so much more than just add to the aesthetics. We have listed some of the pros and cons of false ceilings.
Hides wires and electrical conduits.

Regulates room temperature.

Soundproofs the room.
Needs regular maintenance.

Less durable than the original ceilings.

Damage and risk of falling when they are not installed correctly.

Not suitable for homes with low ceilings.


Elevate Your Home's Aesthetic With False Ceilings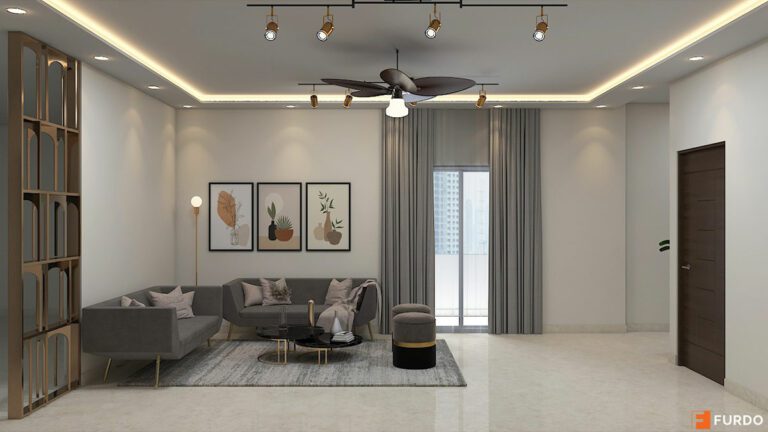 Ceilings are often referred to as the fifth way of a room and are barely the first thought when designing the interiors. However, false ceilings can drastically transform the look and feel of a space. While there is no shortcut to picking the perfect ceiling for a room, there is always the right design for you, depending on your requirement and the specification of your home.
As confusing as this is, the good thing is you can always ask a professional to help you shortlist designs for you. Feel free to reach out to us for your interior design requirements.
Frequently Asked Questions
1. Does My Home Need a False Ceiling?
Ans: A false ceiling is a personal preference and there is no compulsion. Not every home and not every interior theme needs a false ceiling. But false ceilings have become so popular in India because they ultimately elevate your space aesthetically. On top of that, they help control room temperature, soundproof your room, and conceal wires & imperfections.
2. Which False Ceiling Is the Cheapest?
Ans: Gypsum ceilings and POP ceilings are the cheapest. However, the cost greatly depends on where you source your materials and your false ceiling design.
3. What Is the Commonly Used False Ceiling?
Ans: Some of the commonly used false ceiling materials are POP, gypsum, and wood. When it comes to false ceiling designs, layered and recessed ceilings are quite the rage.
4. Which False Ceiling Is Waterproof?
Ans: Gypsum, POP, and PVC are waterproof materials. You can happily pick these materials for high-moisture areas like bathrooms, kitchens, and balconies.
5. How to Maintain a False Ceiling?
Ans: False ceilings don't really need any special maintenance. You can clean them just as you would any other part of your home with a broom and a dusting cloth. However, depending on the materials you picked for your false ceiling, you might have to tailor your cleaning methods. For water-resistant materials, you can use a damp cloth, but for other materials, we suggest you avoid water-based cleaning agents.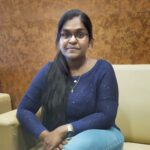 Navya is a lifestyle content writer with significant expertise in other niches, including tech and business. After work, she obsesses over beautiful poetry, hums to soul-soothing music, and binge-watches on Netflix. She also loves to have conversations that are anything but small talk.